Hans Hollein
1934 - 2014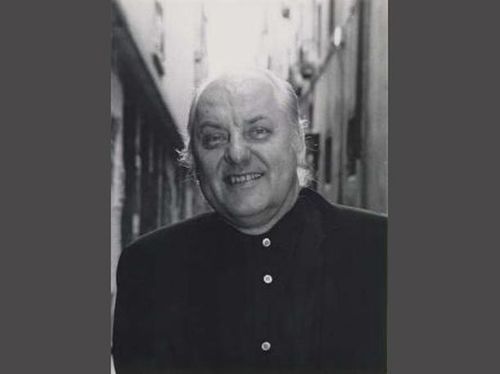 Hans Hollein, born march 30th 1934 in Vienna. Studies at the Academy of Fine Arts in Vienna (Clemens Holzmeister, Diploma in 1956). 1958-1959 extension of his studies at the ITT (Illinois Institute of Technology) of Chicago, 1959-1960 Hollein attends the University of California (Institute of Design), where he graduates in 1960 as "Master of Architecture".
Hans Hollein works as architect, designer, teacher, writer and artist.
Since 1964 Hans Hollein executed and designed most significant buildings all around the world: Austria, France, Germany, Iran, Italy, Spain, the Soviet Union, Japan as well as South-America. Besides, Hans Hollein published numerous articles on architecture, from 1965-1970 Hans Hollein was the head of the Viennese magazine on architecture "Bau".
Academic teaching posts:
1963-63 and 1966 visiting-professor at the University of Washington, St. Louis
1967-76 Professor at the Staatliche Kunstakademie Düsseldorf
Since 1976 Head of the Institute for Design, University of Applied Art, Vienna, since 1979 leadership of a master-class at the University of Applied Arts in Vienna
Since 1979 visiting-professor at the Yale University, New Haven, Connecticut, the University of California in Los Angeles (UCLA), the Ohio State University in Columbus.
Biennale of Venice:
1978-1990 commissioner for the Austrian pavilion
1991 and 1996 commissioner (Biennale for Architecture) for the Austrian pavilion
Seit 1994 Director for the section of architecture
1972 Austrian representative as artist
1991 Award for the Austrian Pavillion (Design Hans Hollein)
Executed projects:
Retti Kerzenladen, Wien 1965
Richard L. Feigen Gallery, New York 1967-1974
Schullin, Schmuckgeschäft, Wien 1972-1974
Direktion Siemens AG, München, 1972
Siemens-Stiftung, München 1970-1972
Firmensitz Media Lines, München - Olympisches Dorf, 1972
Städtisches Museum Abteiberg, Mönchengladbach 1972-1982
Österreichisches Verkehrsbüro, Zentrale und drei Filialen, Wien, 1976-1978
Museum für Glas und Keramik, Teheran, 1977-78
Volksschule Köhlergasse, Wien 1979-1990
Schullin, Schmuckgeschäft, Wien, 1981-1982
"Ludwig Beck at Trump Tower", New York, 1981-1983
"IBA, Sozialer Wohnbau" Rauchstrasse 8, Berlin 1983-1985
Museum für Moderne Kunst, Frankfurt 1987-1991
Haas-Haus (Geschäfte, Restaurants, Büros), Wien 1985-1990
Golfclub Schloß Ebreichsdorf, Ebreichsdorf, 1987-1989
Banco Santander, Madrid, 1988-1993
Generali-Versicherung, Bregenz, 1991-1993
Kulturbezirk St. Pölten, Kulturbezirk der Neues Landeshauptstadt von Niederösterreich, 1992-1996
Archäologische Ausgrabungen am Michaelerplatz, Wien, 1991-1992
Donau-City: Zugang, Wien, 1993
Lichtforum Zumtobel, Wien 1995-1996
Media-Tower, Wien 2001
Interbanktower, Lima, Peru, 1996-2001
VULCANIA - Europäisches Zentrum für Vulkanologie: Museum für Vulkanologie, Auvergne (Frankreich), 1997 - 2002
Not executed resp. not completed prjects:
Architektonische Visionen für Europa, Düsseldorf, 1993-1994
Guggenheim Wien, 1994-1996
Guggenheim Salzburg 1999-
Büro der Direktion der Generali Versicherung Wien, Beginn 1996
Markt-Galerie, Lipsia: Einkaufszentrum, Restaurants, Wohnungen, 1995
Potsdam Center, Hotel und Konferenzräume, 1996
Österreichische Botschaft in Berlin, 1996-2001
Neuer Albertina-Aufgang (completion 2003)
Competitions:
Kulturforum Berlin, 1983
Fabricca del Lingotto, FIAT, Torin, 1983
Neues Nationaltheater von Japan, Tokyo, 1986
Walt Disney Concert Hall, Los Angeles, 1987-1988, Compton Verney Opera Projekt, Compton Verney, Großbritanien, 1988-1989
"Museum im Berg", Salzburg Guggenheim Museum, 1989
Nara Kongreßzentrum, Nara, Japan, 1992
Österreichisches Kulturinstitut, New York 1992
"A Concert Hall on Waterfront in Copenaghen", 1993
Design of show-rooms: "MANtransFORMS"; Eröffnungsausstellung des Cooper-Hewitt-Museums, New York, 1974-1976; "Die Türkenbelagerung-Wien 1683-1983", Wien 1982-83; "Traum und Wirklichkeit, Wien 1870-1930", Wien, Künstlerhaus 1984-1985.
Exhibitions:
Galerie nächst St. Stephan (gemeinsam mit Walter Pichler, Wien, 1963
Richard Feigen Gallery (gemeinsam mit Buchminster Fuller, Frei Otto, Claes Oldenburg und Christo), New York, 1967
MoMa (gemeinsam mit Walter Pichler, und Raimund Abraham)1968
Richard Feigen Gallery, Chicago 1969
"Tod", Museum Mönchengladbach, 1970
"Hans Hollein - Work and Behaviour - Life and Death - Everyday Situations", Teilnahme an der Biennale in Venedig, 1972
Documenta in Kassel: 1977-1987
"Umanismo-Dishumanismo", Palazzo Pazzi-Quaratesi, Florenz, 1980
"La presenza del Passato - Strada Novissima", Biennale Architettura, 1980
"Die Turnstunde - Lessons in Gymnastics", Städtisches Museum Abteiberg, Mönchengladbach, 1984
"Hans Hollein - Métaphères et Métamorphoses, Centre Georges Pompidou, Paris 1987
Museum des 20. Jahrhunderts, Wien, 1987
Nationalgalerie Berlin, 1987-88
Academia delle Arti e del Disegno, Florenz 1988
Yurakucho Art Forum, Museo Sezon, Tokyo, 1989
Tsukashin Hall, Hyogo, Osaka, 1990
"Meuble/Immeuble", Centre Georges Pompidou, Paris, 1993
"La Ville", Centre Georges Pompidou, Paris 1994
"Visiones Urbanas - Europa 1870-1993, La Ciudad del Arlequino, Barcelona, 1994
"Hans Hollein", Historisches Museum der Stadt Wien, Wien 1995
Works in galleries and museums: Museum of Modern Art, Metropolitan Museum of Art , Avery Library of Columbia University, New York; Albertina, Museum für angewandte Kunst des 20. Jahrhunderts, Wien; Fondació Mirò, Barcelona; Städtisches Museum Abteiberg, Mönchengladbach; D.A.M., Frankfurt; Centre Georges Pompidou, Paris; Stedelijk Museum, Amsterdam; National Museum of Modern Art, Kyoto; Victoria and Albert Museum, London; Musée St. Pierre - Art Contemporain, Lion; The Art Institute, Chicago; Minneapolis Institute of Art; The Getty Center for the History of Art and Humanities, Santa Monica; Musée des Arts Décoratifs, Montreal…
Stagedesign:
"Komüdie der Verführung", Arthur Schnitzler, Burgtheater Wien, 1979-1980, Kostüme von Karl Lagerfeld
Film-Festival von Barcelona, 1988
Prizes and decorations:
Reynolds Award für den Retti-Kerzenladen, 1966
Bard Award for Excellence in Architecture and Urban Design, New York 1970
Preis der Stadt Wien, 1974
Großer Österreichischer Staatspreis, 1983
Deutscher Architekturpreis, 1983
The Pritzker Architecture Prize, USA 1985
Großes Österreichisches Ehrenzeichen für Wissenschaft und Kunst, Wien 1990
The Chicago Architecture Award, 1990
Goldenes Ehrenzeichen für Verdienste um das Land, Wien 1994
Architectural Record for Excellence (Banco Santander di Madrid), USA 1995
Österreichischer Staatspreis für Consulting, Wien, 1996
Hans Hollein is member of the following associations: Österreichischer Kunstsenat, Wiener Fachbeirat für Stadtplanung, Königlich Schwedische Akademie von Stockholm, Koninklijke Academie von Beeldede Kunsten dell'Aia, Bezaleil Academy of Arts and Design in Jerusalem, American Institute of Architects (HFAIA), Royal Institute of British Architects of London, Akademie für Architektur von Paris, Lega der Deutschen Architekten, Comisoé International de Difusió de la Cultura Catalana