Beethovenfries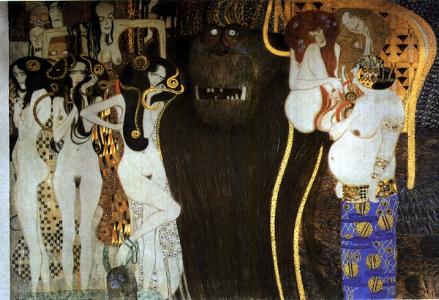 Beethoven Frieze, Gustav Klimt, Secession - 1902
Beethoven Frieze 1902 casein on plaster; 220 x 470 Vienna, Secessionhaus On the occasion of the XIV exhibition of the Secession (1902) twenty-one artists, including Klimt and Klinger were working in the service of a single idea: the celebration of the artist in a ?work of total art?.
The exhibition setting guided the viewer to Klinger?s statue of Beethoven, made of polychrome marble, ivory, alabaster and bronze. For the exhibition Klimt did a frieze on the them of man?s struggle against his suffering, giving a symbolic interpretation of Beethoven?s Ninth Symphony.
Since they were temporary panels, he used casein paints on plaster that had been applied to a lattice, and then to achieve certain effects he inserted fragments of mirrors, colored glass and even upholsterer?s nails into the composition. Here, stylization and decoration come into their own in the golden style of the frieze.
The initial scene portrays the longing for happiness: grieving and emaciated humanity desperately begs the knight, symbol of virtue, for help. Compassion and Pride accompany the knight to a benevolent stream that prompts the hero to undertake the struggle for happiness. At the end of road that is filled with difficult trials, he reaches his goal to be embraced by Poetry
Foto: Karolinsky-Archive