André Heller
1947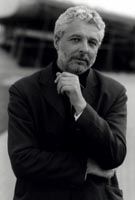 André Heller was born in Vienna in 1947. He is one of the most influential and successful multimedia artists in the world. His accomplishments comprise garden designs, chambers of wonder, prose publications and processions, the revival of circus and variety, theater, million sales of records of his own chansons, large flying and floating sculptures, the avant-garde amusement park Luna Luna, films, fire spectacles and mazes, as well as plays and shows which were enjoyed by audiences from Broadway to the Vienna Burgtheater, from India to China, from South America to Africa.
André Heller lives in Vienna and Lombardy and travels the world.
André Heller né en 1947 à Vienne, compte parmi les artistes multimédia les plus influents et les plus célèbres du monde. Ses réalisations englobent les oeuvres paysagistes, des chambres miraculeuses, des publications de prose et des processions ainsi che les renouvellement du cirque et des variétés, des millions des disques vendues en tant que compositeur et interpréte, des grandes sculptures volantes et flottantes, le parc d'attractions futuriste Luna Luna, des films, des feux d'artifice et des labyrinthes ainsi que des pièce des théatre et des spectacles applaudis à Broadway comme au Burgtheater à Vienne, en Inde comme en Chine, en Amerique du Sud comme en Afrique.
André Heller vit à Vienne, en Lombardie et en voyages.
Andrè Heller é nato a Vienna nel 1947. E uno degli artisti multimedia piú autorevoli del mondo e ha conseguito molto sucessi. Le sue realizzazioni comprendono opere artistiche di giardinaggio, camere dei miracoli, pubblicazioni di prosa e processioni nonché la rianimazione del circo e dello spettacolo di varietá, millioni di dischi venduti in veste di cantautore di proprie canzoni, grandi sculture volanti e galleggianti, il parco avantguardistico dei divertimenti Luna Luna, film, spettacoli pirotecnici e labirinti nonché opere teatrali e shows che hanno raggiunto in pubblico dal Broadway al Burgtheater di Vienna, in India come in China, in Sudamerica come in Africa.
André Heller vive a Vienna, in Lombardia e viaggiando.