Daniel Kage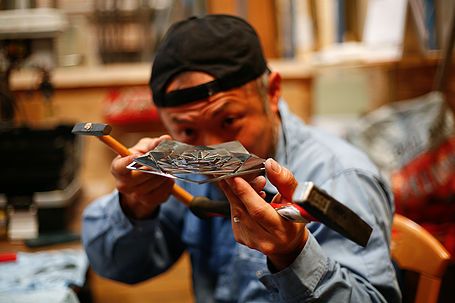 Hello, I am Daniel Kage.
I am a sacred geometer, designer and a stainless sculptor based in Vienna, Austria.
My art reflects the connection between man, nature, the Universe and the spiritual world, exploring nature's randomness and elaborating hidden patterns through multidimensional creations.
The inspiration of my art is based in all life manifestation, in natural patterns, designs and structures from the most minuscule particles to the whole cosmos. It is dedicated to bringing the power of sacred geometry, the ancient knowledge and the majestic patterned geometric beauty of Creation to our modern world.
In 1996 my father, a remarkable metallurgic engineer who was implanting new japanese technology of stainless steel in Brazil, sent me to Japan to learn the secrets of handcrafted process of sculptures and artifacts in stainless steel with two of the best stainless sculptors in Japan, Master Nagayama from Art Factory Scape in Chiba and Master Maruyama from Maruya Kogyo in Sapporo and their teams.
There in Japan, I was always supported by Mr. Kusakabe, a wonderful man and ex-president of the Tokyo Stainless Grinding company.  
Back to Brazil, I worked in partnership with numerous designers and renowned architects always giving technical solutions and support for their projects, and I started to develop my own pieces as well.
Around 2005 I started then my researches about this magnificent and unique science called Sacred Geometry. The geometry in nature that shows us the principle of oneness, the architecture of the Universe.
Through my art I try to bring to our modern world the knowledge of the ancients. They knew about everything and somehow we have lost our real connection with ancient knowledge. It is also a way to share the most beautiful experiences I ever had in my life. These built sacred shapes are part of my meditation which acts as a healing process for my inner soul. It show us the principle of oneness. Being a Sacred Geometer is a gift. I feel honored to spread this science every time I share my knowledge.
For all artists, designers, architects, admirers, art collectors and friends, welcome to my world!